People's Liberty is a philanthropic lab that empowers individuals eager to make positive change in Cincinnati—but don't just take our word for it! We're passing the megaphone along to our 2015 Project Grantees in a series we're calling "Grantees Takeover the Blog," in order to better capture their projects, process and unique stories. Read on...
Creative App Project; Grantee: Mark Mussman
On a cold night, I went to a People's Liberty informational meeting on Individual Project Grants not knowing exactly what my project would be or if it would even be possible...
As I sat and listened to the descriptions of what was fundable (innovative, locally focused, enrichment events and/or programs), I began to hone in on an idea. As they talked about the importance of place, I felt inspired by my own experiences in Cincinnati as an educator with a focus on technology instruction. I've been making websites since 1997, and it took me 5 months to develop my first Android App: The Cincinnati Hill Challenge, which has resulted in the building of community and fitness awareness in Cincinnati. I thought "if it took me that long to develop an App what if we could teach people to make their own App over the summer? And what if we could make community connections and possibly make it a permanent fixture in Cincinnati?"
I partnered with two local, well-known organizations, Mercy St. John's and United Way,
and reached out to many others, to make sure that the project would get off to a steady start. I am so thankful they agreed to share the information with their partners, and to give us lab and meeting space.
"Would people even show up for a class to make Android Apps?"
Before the class started, I had to create my support network and I began to develop the CAP513 webpage, schedules, materials, and strategies. A month went by before the epic 3-2-1 Launch Weekend, which was the beginning of the enrollment period. At Launch Weekend, People's Liberty arranged for me to have a team of experts: a Storyteller, a Graphic Designer, and an Entrepreneur, who helped me focus my project, prepare the language for the pitch, and create a logo.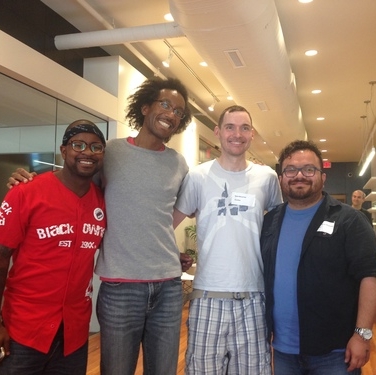 Leading into the first class, we had 14 students signed up (representing these neighborhoods: Walnut Hills; College Hill; Over-the-Rhine, Paddock Hills, Central Business District, Lincoln Heights; Anderson Township; CUF; Northside; Bond Hill; and North Avondale), and six experts agreeing to assist us on our journey:
Social Media Expert
Developer
Branding and Design Director
Visual Arts Educator
Local Photoblogger
Information Expert
Our App ideas are locally rooted and fall into these themes:
Design and Architecture
Health and Wellness
Politics and News
Art and Photography
Community and Education
We hope you've enjoyed this sneak peak into the hearts and minds of the people driving this amazing project. Be sure to check us out next week for another exciting installment of the "Grantees Takeover the Blog." Think you've got what it takes to be a Project Grantee? We'll be accepting applications for our next round of Project Grants August 5 - September 9, 2015. Grants range in size depending on the scale of the project with a maximum award of $10K. Check outpeoplesliberty.org/apply to download our Grant Guide, find important dates, schedule a one-on-one and apply!